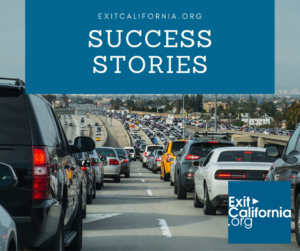 CLIENT: Daniel and Erica M.
LOCATION: Irvine, CA
OVERVIEW: Daniel and Erica have lived in Irvine since 1999 after relocating from Ohio for a job transfer. Daniel works for a health-care company and commutes to Los Angeles four days a week. Erica works part-time as an administrative assistant as they have 2 school-aged children and struggle with finding a good life balance in California, due to the high cost of living and long commute times.
OBJECTIVE: Daniel and Erica were looking for a solution to find a better quality of life with lower expenses, less congestion and a larger home for their growing family.
EXIT CALIFORNIA ROLE:  An Exit California advisor (Certified Relocation Specialists – also licensed agents) was assigned to Daniel & Erica. Since they had their eyes set on Texas, we helped them with a roadmap, considering all the most important steps, from start to finish.  We helped with finding them a seasoned Realtor/Broker to list their home in Irvine, then lined them up with a top-notch lender for pre-approving them for a purchase in Texas.  Once this was in place, we lined them up with another experienced Broker/Realtor in Texas who took their pre-approval and found them their perfect home.  All parties involved seamlessly worked together because the advisor made sure all the parties were on the same page – considering Daniel & Erica's goals and timelines.
Irvine Home Vitals:
Current home value: $1,150,000
4 bedroom, 2.5 baths, 2,051 sq. ft.
Outstanding mortgage balance: $750,000
Monthly housing costs: $5,260 (principal, interest, taxes, insurance, HOA)
SOLUTION: Daniel and Erica spent time researching Dallas, TX as a potential place to relocate due to its thriving health-care scene, rising economy, low unemployment rate, diverse population, and advantageous tax laws. The family visited Dallas a couple of times for Daniel to interview with a new company and to look at home communities. Shortly after, Daniel accepted a job offer and it was time to get their Irvine home on the market.
Irvine home list price: $1,150,000
Final sales price: $1,165,000
Net proceeds after loan payoff and costs of sale: $365,000
Dallas Home Purchase Vitals:
Purchase price: $455,000
4 bedroom, 3 baths, 2,422 sq. ft., with pool and spa
Down payment: $91,000 (20%)
New Mortgage: $364,000
Monthly housing costs: $2,862 (principal, interest, taxes, insurance, HOA)
RELOCATION OUTCOME: Monthly housing cost SAVINGS of $2,398 and NET PROCEEDS from home sale after down payment on a new home: $274,000.  The cost of living has significantly improved and the commute is 30 min round trip.  So by default, quality of life is on their side!
Learn about ExitCalifornia.Org
Are you considering a move out of California?  We can help!  Visit www.ExitCalifornia.org